Here Come The Irish: 2022 Notre Dame Football Preview
Notre Dame 2022 Season Preview :
Wake up the echoes, Notre Dame football is all the way back. It is officially the start of the #FreemanEra and Notre Dame is cool. I know what the haters are already thinking, Marcus Freeman lost his coaching debut and blew a big lead. To that I will say bowl games are irrelevant unless you are in the playoffs so find a new slant. As I write this, Notre Dame currently sits atop the 2023 recruiting class rankings, ahead of Alabama, Ohio State, Georgia, and Texas. Will they finish the recruiting cycle at the top? Probably not. But that doesn't matter, what matters is they are currently at the top and this summer has been electric gathering all the recruits Brian Kelly said we could not get. Brian Kelly was adamant that Notre Dame could not shop in the same aisle as these other top schools, but that seems to be as fake as his southern accent. But that's enough about recruiting, let's talk about why we are really here. We are less than a month away from kickoff and it is time to preview the 2022 Notre Dame football schedule.
Week 1: @ Ohio State
Let's just get to the point, not a soul outside of South Bend is picking the Irish in this game. Ohio State is just too powerful on offense, they have the best QB-RB-WR combination in the country, is what all the "experts" are saying. But are we sold on the Buckeye defense? Do we love the offensive line? No. They have weaknesses and the Irish will exploit them with the dynamic play of Tyler Buchner and the return of the best pass rushing group in the country.
Notre Dame 31
Ohio State 24
1-0
Week 2: Marshall
The first home game of the year and ND gets a softball if I have ever seen one. Not much to be said, Notre dame rolls and it's not even close. I was going to do some research on Marshall, but its Marshall and we are Notre Dame. Two words: Talent Gap
Notre Dame 45
Marshall 20
2-0
Week 3: Cal
The Pac-12 is just not a strong conference and this is not a very strong Cal team. The Notre Dame defense will show off in a dominating fashion and introduce Cal to what an actual defense looks like.
Notre Dame 38
Cal 17
3-0
Week 4: North Carolina
The last few years this was a fun matchup for the haters to pick against Notre Dame, but of course they were wrong. There is no more Sam Howell and there are a lot of question marks in Chapel Hill.
Notre Dame 44
North Carolina 28
4-0
Week 5: Bye
Rest up, it's a marathon not a sprint
Week 6: BYU
The game that debuted the acting careers for Freeman, Mayer, and Foskey. Notre Dame is headed to sin city for the shamrock series game and of course "BYU will cause problems for ND". This is the game that all the experts love to pick against the Irish but the shamrock uniforms are clean and if you look good, you play good.
Notre Dame 28
BYU 20
5-0
Week 7: Stanford
Stanford used to be trouble for Notre Dame, but as of late the only trouble this game brings, is deciding what color gatorade ND should drink out of the Legends Trophy. Notre Dame will get their 4th straight win vs the Cardinal.
Notre Dame 41
Stanford 13
6-0
Week 8: UNLV
This one is going to be ugly.
Notre Dame 52
UNLV 10 (This was a generous late touchdown prediction)
7-0
Week 9: Syracuse
Shoutout to former guest and friend of the show, Coach Lustig. He has our support but Syracuse just doesn't have the juice. After an exciting 2018 season, Syracuse has just been downright awful ever since.
Notre Dame 45
Syracuse 14
8-0
Week 10: Clemson
We all remember the last time Clemson came to Notre Dame correct? Not even Covid could stop the storming of the field. DJ Uiagalelei looked like a beast and the future looked bright. However, that bright light got really dark, really quickly and the 2021 Clemson offense was atrocious. The ND defense will cause problems for the offense and Notre Dame will score enough points to have another exciting win over Clemson in South Bend.
Notre Dame 30
Clemson 20
9-0
Week 11: Navy
Nothing but respect to our Sailors, but playing Navy is not very exciting, especially when all they do is run the same play 100 times and dive into your best players knees. Let's just make it out of this one healthy and appreciate our servicemen.
Notre Dame 38
Navy 14
10-0
Week 12: Boston College
Phil Jurkovec makes his return to Notre Dame stadium. Jurkovec had a lot of hype coming into Notre Dame, but just could not beat out Ian Book, even during the dark days of the Book era. It will be a fun story line and he will do interviews talking about coming back, but Notre Dame is simply better than BC.
Notre Dame 34
Boston College 21
11-0
Week 13: USC
USC is back. Well that's what everyone is saying with the flashy hire of Lincoln Riley and the transfer portal duo of Caleb Williams and Jordan Addison. This is a huge hire from all of the championships Riley won at Oklahoma and all of his success in the playoffs. Oh wait, he didn't win a single one of those? Fun regular season team, beat up on bad opponents vibes. USC has less talent than Riley had at Oklahoma and I am sure this might cause ND problems in the future, but not this year.
Notre Dame 41
USC 35
12-0
Now I know what everyone is saying by this point. "This article is biased" which could be true, or I could be a genius once the Irish finish the season with a trip to dance in the College Football Playoff. I guess there is only one way to find out. Regardless of your thoughts on my preview, Notre Dame is cool, Marcus Freeman can recruit, and the future of Notre Dame is brighter than ever.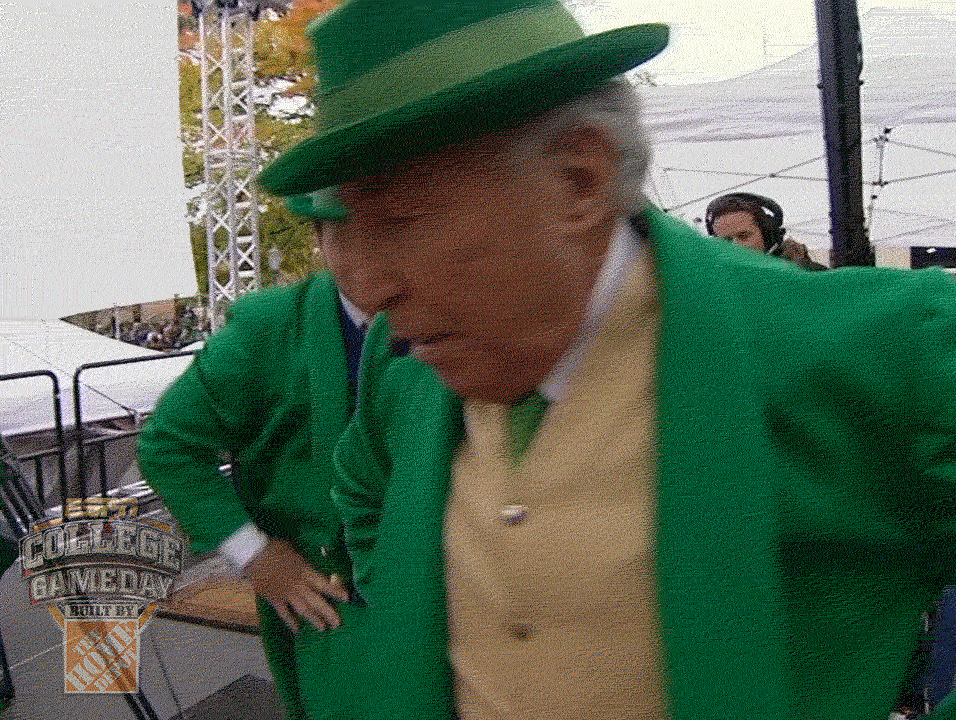 - Arthur King